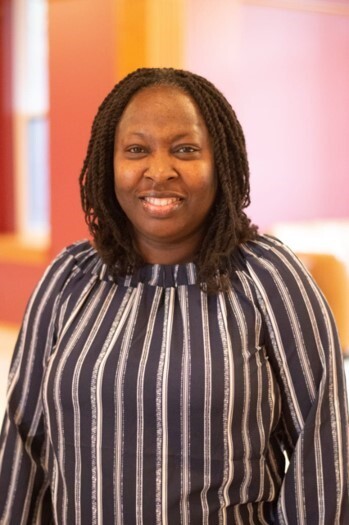 Olayinka is a researcher, an advocate, and a barrister of the Supreme Court of Nigeria, resident in South Africa. She is presently an Queen Elizabeth Scholars – Advanced Scholar with the Center for Intellectual Property and Information Technology Law (CIPIT) at Strathmore University. She has a doctoral degree in Law (LLD) from the University of Pretoria and obtained her masters and first degree from the Obafemi Awolowo University, Nigeria. She is a 2018/2019 Research Fellow of the International Centre for Women's Research of Coady International Institute, Nova Scotia, Canada. Olayinka has certificates in Women's Human Rights on UN CEDAW for Change, Women Leadership for Community development, Action Research for Citizen Led Change, Children's rights, Student Support and Academic Development and a certificate in Social Entrepreneurship. She has several years of experience in legal practice in Nigeria, research, lecturing, and community development for the protection of women and the girl child. She has authored several book chapters and journal articles as well as many books and papers. Olayinka is the CEO and Founder of Women on the Watch (WOW) Society Initiative, a Not-for-Profit registered in South Africa. Her present research interest is the rights of vulnerable persons, women in particular, in the emergence of developed technology.
QES-AS Research
Title: Women Innovators in Africa: Addressing the Legal and Other Challenges for Technology, Entrepreneurship, and Development
Abstract: Women have contributed and still contribute to development in most societies, African women are not excluded. These contributions have been in almost every sector. Yet, it is a fact that women, especially entrepreneurs and innovators, even in traditional history have often not received the acknowledgment of their engagement and or benefit of their contributions. Gender inequality, its ideologies, and other associated issues have been the reason for this exclusion. The effects of these relegations are glaring on the poverty level which affects societies and women, particularly those of developing countries. While the narrative is changing in developed countries, it is not certain if the same can be said about Africa. The role and importance of the connecting factors of laws, policies, and technology as well as their challenges as they impact the issue of women's inclusion in innovation is imperative for research.
Olayinka's research involved the collection of primary and secondary data. Desktop literature review and questionnaires to participants in Small and Medium Enterprises in Kenya were employed. Analytical, comparative, as well as exploratory methodology approaches were accessed to arrive at answers to the research questions. Findings revealed that African women entrepreneurs engage in innovation and knowledge transfer through social media and, while laws and technologies can be beneficial, they also contribute to challenges affecting women's enjoyment of the benefits. The research contributed to existing literature, recommended policies, and provided innovative strategies to African women's inclusion in the participation and benefit of innovation now and in the future.