Feature photo: A sign for I Makers Lab / Makers Village in Irene, Gautang Province by Jeremy de Beer
By Jeremy de Beer and Jeremiah Baarbé
Researchers across Africa are studying how the maker movement and makerspace collectives foster innovation. This overview highlights our ongoing work on the continent and around the world:
If our work interests you, or if you would like to collaborate on research, let us know about new makerspaces near you, or share your making story, please comment below and connect with us on Facebook or Twitter.
Making across Africa
Open AIR is conducting research on makerspaces across the African continent. Our researchers are studying makerspaces in South Africa, Kenya, Egypt, Tunisia, Morocco, Nigeria, Ethiopia, Ghana, and elsewhere. Pursuing our larger research agenda, we are laying groundwork for international comparative studies of makerspaces in Canada and Latin America.
As spaces for collaborative knowledge sharing, makerspaces offer a unique sandbox for action research on how to promote inclusivity in technological development. We host workshops and roundtable discussions, speak at conferences and festivals, bringing people together to discuss the role of makerspaces in promoting innovation.
The maker movement is a global culture promoting openness-oriented innovation using open-source hardware. Tools commonly found in makerspaces include 3D printers, laser cutters, and Arduino circuit boards.
Makerspaces are places where people gather to build projects, learn new technologies, and develop entrepreneurial opportunities. They are workshops that give 'makers' the tools, resources, and training to prototype their hardware-based ideas.
We are far from the first researchers to write about Africa's maker movement. In 2013, Erik Hersman, co-founder of Ushahidi and Gearbox, wrote about the need for makerspaces in Africa; and in 2015 Ndubuisi Ekekwe described in the Harvard Business Review how the African maker movement is growing.
Since our research on this topic began about 2015, Open AIR's deepening, empirical fieldwork throughout the continent shows the maker culture is becoming more visible in Africa and globally, closely associated with the rise of tech hubs, hackerspaces and fab labs.
Although there are significant differences between the global maker movement and Africa's informal sector in terms of actors involved and their educational and economic backgrounds, the two share important characteristics. For instance, both have a strong "Do It Yourself" DIY ethos built on improvisation as a necessary condition for existence or survival.
African makers are not only digitally sophisticated hobbyists. Our research shows that makers across the continent often gather to innovate solutions to local problems and to develop new businesses.
As such, makerspaces are locations where informal and formal sectors interact, offering a unique opportunity to study intersections across Open AIR's core research themes: high technology hubs, informal sector innovation, and indigenous community entrepreneurship.
Makerspaces are typically located near or within high technology clusters or companies, and thus fit an emerging new framework for assessing African tech hubs. Makerspaces offer tools and expertise so people can informally design effective solutions and create innovative products that solve grassroots problems; a hallmark of informal sector innovation. And makerspaces often co-exist with other crafting spaces, contributing indigenous culture, knowledge, and resources to help build entrepreneurial communities.
Our research on makerspaces mirrors Open AIR's two overarching research questions:
Making in Southern Africa
Open AIR's makerspace research in Southern Africa began by mapping the dynamic maker movement in South Africa. So far, we have identified 28 maker collectives operating in universities, government buildings, and private homes across the country.
Erika Kraemer-Mbula and Chris Armstrong have published a working paper on maker collectives in Gauteng province. Their research engaged several students from Open AIR's New and Emerging Research Group and their affiliated institutions, the Institute for Economic Research on Innovation, University of Johannesburg, and Wits University's LINK Centre. Using data gathered from interviews of participants in eight makerspaces they consider the dynamics of the maker movement as a contributor to informal innovation. They offer a framework for understanding makerspaces and their relationship to innovation. Their insights show how makerspaces in Gauteng province might be supported and scaled up.
Surrounding this study, Erika, Chris, and University of Ottawa researchers Jeremy de Beer and Meika Ellis undertook a national scan of the maker scene. Work ramped up in 2016 when Meika Ellis, a JD graduate from the University of Ottawa, visited and began mapping makerspaces in Durban and Johannesburg and Pretoria as part of Open AIR's NERG "mobility" program (which sends student researchers to visit their counterparts at other hubs). Chris Armstrong subsequently enhanced the scan with visits and discussions with numerous makerspaces in other regions of the country.
The resulting working paper inductively identifies a set of variables that help to map maker movements elsewhere, at the local, national, and global level. Their work also identifies a number of priorities for further investigation, laying a foundation for deeper national research as well as internationally comparative work.
An article based partly on that research, has been submitted to the editors of a forthcoming special issue of the Journal of Peer Production.
Armstrong and Kraemer-Mbula are already preparing for new fieldwork to better explore the impacts of makerspaces on and in marginalized communities. Their next-step research takes them to both urban and rural environments in Gauteng for interviews about the "inclusivity" of makerspaces, such as gender-based perspectives, the engagement of indigenous communities, overcoming language barriers, and more.
Bram Van Wiele, a PhD candidate at the University of Cape Town, and his supervisor Tobias Schonwetter are studying the intellectual property aspects of additive manufacturing, including 3D printing in makerspaces. Case study research results, which include comparisons with Kenya based on their fieldwork there, are anticipated soon.
Making in East Africa
Kenya's thriving high technology and software development scene has gained international attention. Its successes include M-Pesa, the mobile payment and banking system, and Ushahidi a global crisis response mapping app.
The Centre for Intellectual Property and Information Technology Law (CIPIT) at Strathmore University, Open AIR's Kenyan hub, leads the network's research on these kinds of innovation at high tech hubs. The CIPIT team, led by Isaac Rutenburg, is studying Kenyan makerspaces as part of a broader study of high technology hubs.
Our first publication on tech hubs shows the entire country of Kenya has emerged as a place where startup companies are congregating in several clusters, especially in a few Nairobi neighborhoods. "A Framework for Assessing Technology Hubs in Africa" is published in the New York University Journal of Intellectual Property and Entertainment Law to increase foreign awareness of these globally important developments.
Our emerging researchers have led Open AIR's research on Kenyan makerspaces, identifying 7 makerspaces located in Nairobi, Mombasa, and Kisumu. In June, 2017 Victor Nzomo, a PhD candidate at the University of Cape Town, and Jeremiah Baarbé, a JD student at the University of Ottawa, visited Kenyan makerspaces. They are preparing a paper for publication based on their research.
Making in North Africa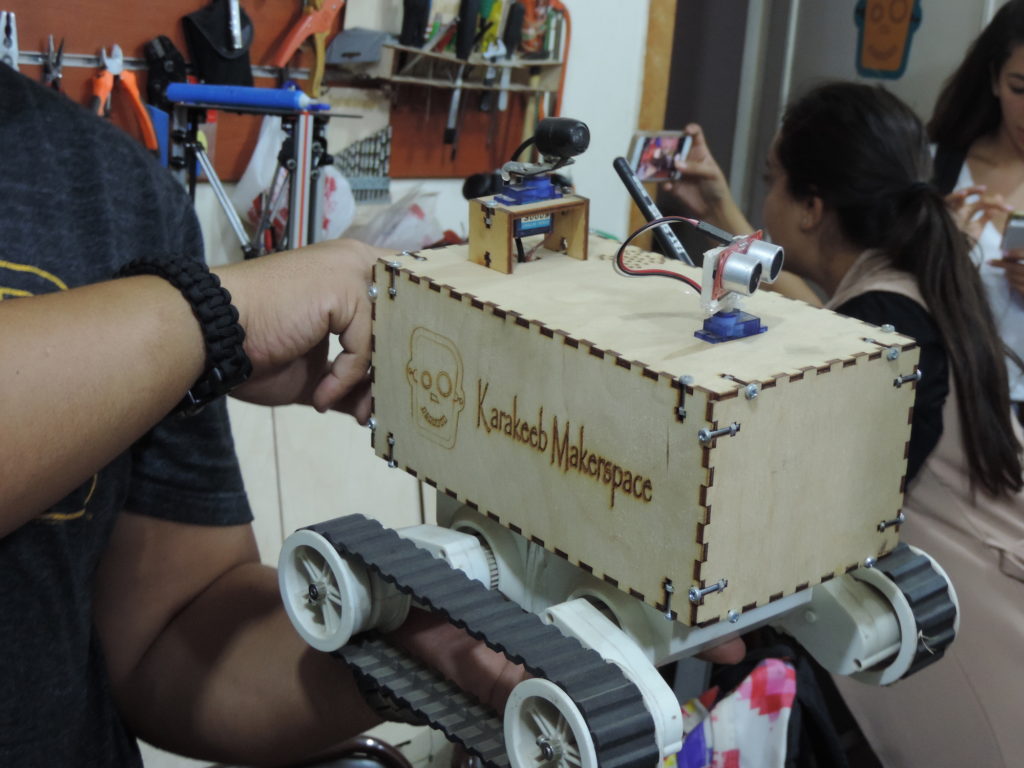 Researchers at the Access to Knowledge for Development Center (A2K4D) at the American University of Cairo are studying makerspaces in North Africa. Nagla Rizk, Nagham El-Houssamy, are conducting a case study of informal innovation occurring in makerspaces. A team of emerging researchers, including Sarah El Saeed and Nancy Salem support the study. A2K4D's work also includes developing new metrics to measure informal innovation by Nadine Weheba and Menna Badreldin.
The A2K4D hub is active in promoting research with the maker movement. In January, 2017 the hub hosted their first Distinguished Speaker event in partnership with RiseUP. Abrahim Al-Safadi, CEO of Luminous Education, spoke about the role of makerspaces in tackling unemployment. He described how Luminous Education uses makerspaces to provide vocational training and boost entrepreneurial mindsets.
 A2K4D's blog Knowledgemaze, recently published an article by Mohamed Hosny, describing how makerspaces innovate around a lack of access to funding. In October 2017, the hub is hosting a makerspace workshop at the American University in Cairo for makers and researchers from across North Africa.
Open AIR's makerspace research in North Africa is not limited to Egypt. In Casablanca, for example, Nancy Salem observed first-hand how makerspaces are facilitating inclusive innovation in Morocco. There are also makerspaces in Tunisia and other North African countries that Open AIR hopes to study in the near future.
Making in West Africa
Yaw Adu-Gyamfi is leading an Open AIR case study of informal innovation in Suame Magazine, an informal industrial area located in Kumasi, Ghana. His research found that artisans report being unable to keep pace with technological developments. The study explores ways to support innovation, including using the maker movement to enhance collaboration and provide opportunities to learn digital technologies.
Esther Ngom, Open AIR's Engagement Officer for Francophone Africa, recently visited a makerspace in Ouagadougou, Burkina Faso to observe innovation in action. Coincidentally, there is a relationship between this makerspace and the Richard L'Abbe Makerspace at the University of Ottawa. Several years ago, undergraduate students at uOttawa were able to make a 3D-printed prosthetic hand for a young Canadian child. It offered almost all of the functionality of standard prosthetics for a small fraction of the cost.
While the Canadian students figured out how to make a $20,000 hand for under $1100, makers in Burkina Faso used the open source design to do the same thing for $20. This is precisely the kind of outcome Open AIR hopes to see more of, through a new initiative on innovation, entrepreneurship, and appropriate technologies.
Scaling up to Global Makerspace Research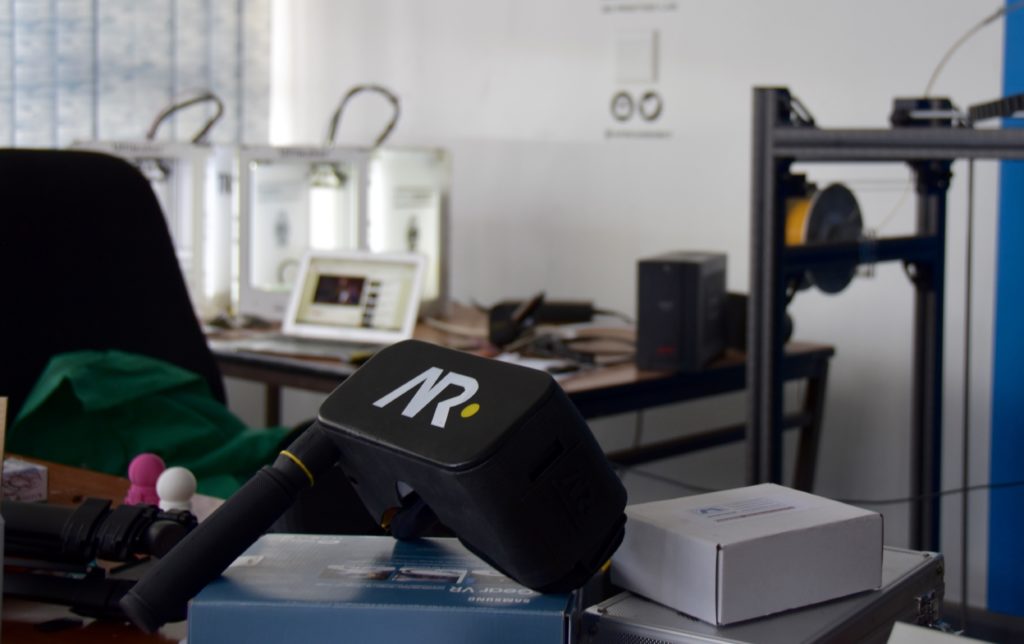 Open AIR's research in Africa is simply the first part of our larger research agenda. A foundation for international comparative work was laid in August, 2016 at our first workshop held in Ottawa. One outcome of this meeting is a partnership for collaborative research with Hanan Anis, Canadian Research Chair in Entrepreneurial Engineering Design, and her team of graduate students studying makers and practicing making at the University of Ottawa. This collaboration will help Open AIR conduct comparative research in Canada while opening doors for engineering students to intern at makerspaces across Africa.
Open AIR is also collaborating on makerspace research in Latin America. In late 2016, Brazilian researchers based in Rio de Janeiro met and Open AIR researchers met in Zanzibar to discuss developing a framework for comparison.
In June, 2017 Jeremy de Beer from Ottawa and Nancy Salem from Cairo visited Buenos Aries and explored collaborations with researchers from Argentina and Colombia. De Beer's keynote at a major conference on the future of cities highlighted Open AIR's makerspace research. He spoke about the transformative impact of makerspaces on urban environments, and how cities worldwide can learn from what's going on in Africa.
Sharing insights in 🇦🇷 from @Afrinnovation research re 🇿🇦 #makers @ITHubSA @Geekulcha, @InnovHub @Maker_Station @AfricanRobot… https://t.co/n76UTNWUqU

— Jeremy de Beer (@jdebeer) June 9, 2017
Action Research, Workshops and Events
Open AIR's work includes action research, engaging the maker movement's collaborative ethos. Makerspaces provide a living lab to participate in developing solutions to common problems facing makerspaces. We are holding workshops sessions across Africa and even participating in the evolution of maker communities.
Our second workshop, held in March, 2017 at the Institute for Economic Research on Innovation at Tshwane University of Technology in Pretoria brought makers and researchers together. The three-day program helped broker relationships between makerspaces, helping them better coordinate themselves, work together, and determine what policies would be helpful to them.
We are involved with running makerspaces as a way to test and explore questions of ensuring sustainability and promoting inclusiveness. CIPIT at Strathmore University has recently obtained significant private sector support to start a makerspace on campus. We have also partnered with the Richard L'Abbé Makerspace at the University of Ottawa to advance comparative research in Canada.
Outlwile Maselwanyane, an Open AIR researcher who just completed his master's thesis on makerspaces, and Erika Kraemer-Mbula participated in the most recent Fak'ugesi Festival at theTshimologong innovation precinct in South Africa. Last year during the same Festival, Jeremy de Beer explored the precinct and its makerspace, the DIZ, with Open AIR's Luci Abrahams who has a base office at Tshimologong. It's great that 12 months later, Maselwanyane and Kraemer-Mbula participated to distribute Open AIR's materials, met new people and re-connected with the community of makers. The event was vibrant and packed with visitors. Makers found Open AIR's research very interesting and were happy to have printed copies of a working paper and our latest annual report.
At the OMMIC 2017 Conference being held in Ottawa, Open AIR has a panel on making, open innovation, and socio-economic inclusion. Our researchers are discussing efforts towards fostering socio-economic inclusion, via making and open innovation, as practiced by the uOttawa Richard L'Abbé Makerspace and by certain South African maker collectives.