By Uche Ajuonuma
Last fall, I attended the Ontario Makers and Mentors Innovation Conference (OMMIC) at uOttawa. The event was held at the new STEM (Science, Technology, Engineering, and Math) complex, which was designed to develop ingenuity and creative thinking. Right from the beginning, OMMIC was exciting because I got to see the faces of people I have only had contact with through emails and social media.
OMMIC was a multi-purpose meeting of Makers and mentors from across Ontario and beyond with an aim of democratizing innovation through technical entrepreneurship. While there, I was continually trying to pair my Maker skills with my entrepreneurial skills.
Ontario Makers and Mentors Innovation Conference (OMMIC)
From day one, I began to see the efforts people in the western world put to innovatively make our world better. The response was so overwhelming that I began to wish that all Nigerians could join me!
I learned from the first speaker, the Dean of the Faculty of Engineering, Dr. Jacques Beauvais, about the unavoidable need for innovation and openness in tackling the world's most pressing challenges. Nearly everyone agreed in the integral link between collaboration and openness as a recipe for innovation. This kind of collaborative innovation is one epitomized by the maker movement, where everyone across the world can benefit from the democratization of making stuff.
While at the conference, I was able to take the time to meet the folks at Open AIR's Ottawa hub, who kindly supported me on my trip. I had the pleasure to meet Chris Armstrong, Thomas Mboa, Victoria Schorr, and others from the Open AIR network. It was great to finally meet the people behind the work; those who have written many different reports and conducted interesting research on innovation in Africa. After meeting the Open AIR team, I went back to the conference to meet the people I was going to spend the next couple of days with. It was a wonderful experience as we were able to have great conversations about all our experiences in the maker movement, both in Nigeria and across the world. It was a joy to share about some of the projects that I have been working on and to hear others' stories that were both similar and different.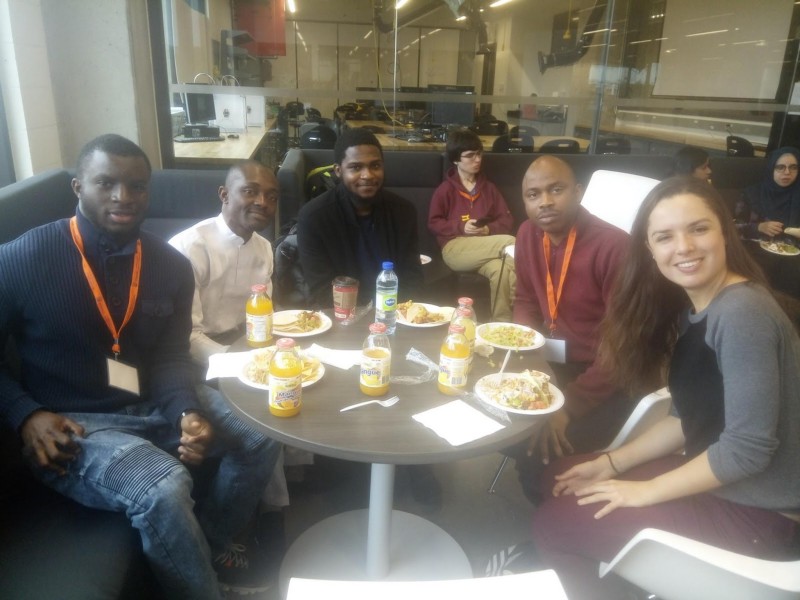 Nigeria in the Maker Movement
I was surprised at how interested people were about what Nigeria was doing in the innovation space. Several people joined in the discussion in my session, where I discussed the projects we have been working on at the Hardware Nigeria Community.
The Hardware Nigeria Community is a group of hardware developers and Makers that have a desire to build projects which solve social challenges facing our community. Our focus is on gathering statistics about the maker movement across Nigeria. This is so as to not only understand what Makers do, but also to provide them support including how to encourage the involvement of women in the maker community and engaging women in STEM-related programs in Nigeria. Personally, I am an innovation evangelist. Like every evangelist, I have my cause. For me, it is the youth who develop hardware and make stuff across Nigeria. This "Makers" community in Nigeria is struggling to get itself in a confident position in order to solve Nigeria's most pressing hardware-related challenges. My experience in Ottawa left me inspired and ready to take what I have learned and apply it to our projects in Nigeria.