The 2018 Annual Economic Summit, was organised by the Global Economic Institute in partnership with the Government of the Canary Islands. It took place in Las Palmas de Gran Canaria, Canary Islands, November 12-15 2018.
The summit examined a range of issues including trade, FDI, sustainable tourism, open innovation, maritime innovation, health innovation, sustainable energy systems, innovation in resource economies, financial technologies, artificial intelligence, public-private partnerships and the triple helix of industry–academia-government interactions. A major initiative of the event included laying the groundwork for a more formalized Canada-Canary Islands-Africa collaborative triangle.
Open AIR Collaboration
Open AIR was one of the sponsors of the event, and was represented by Prof Erika Kraemer-Mbula (University of Johannesburg, South Africa) and Dr. Isaac Rutenberg (Strathmore Law School, Kenya).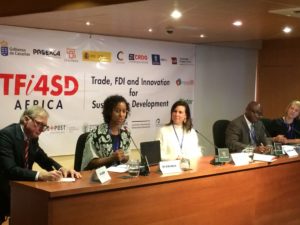 Prof Kraemer-Mbula presented in a session dedicated to "Internationalizing Technological Capabilities: A Canarian-Canadian-African Perspective". In her contribution she highlighted the importance of innovation and technological capabilities beyond large-formal firms in Africa, and referred to some of the work done under open AIR under the theme "Informal Sector Innovation".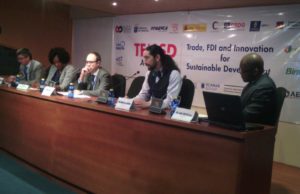 Dr. Rutenberg presented in a panel on "Research, Educational Exchanges and Internationalization". The discussion focused on the ability of African academic institutions to adapt and adopt internationally relevant curricula, and to attract international students and researchers. The panel concluded that many challenges are currently preventing these goals, but the concepts of open innovation in curriculum development may be one potential aid.
The event provided a great opportunity to disseminate the work by Open AIR and identify potential future partners.