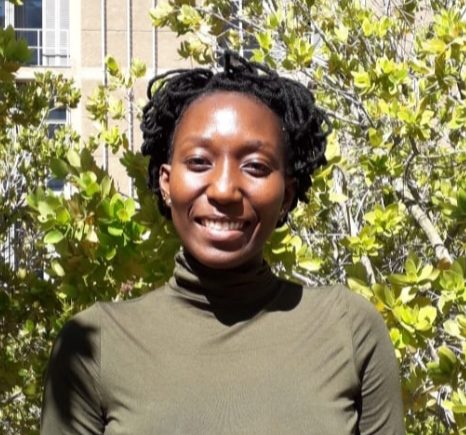 Ghati Nyehita is an advocate of the High Court of Kenya and a doctoral candidate at the University of Cape Town. She is an Open AIR Queen Elisabeth Scholars – Advanced Scholars Fellow, exploring the extent to which copyright law either restricts or expands the possibility that the maker movement in South Africa will contribute to growth of informal sector innovation. Particularly, she is examining how South Africa can leverage copyright law as a tool for inclusion of women, girls, and marginalized groups into the innovation paradigm.
Before joining Open AIR, Ghati clerked for Chief Justice Shivute of the Supreme Court of Namibia, worked as an associate at a boutique law firm in Kenya, and was a researcher at the Democratic Rights and Governance Unit in South Africa. She supports initiatives that facilitate free and open access to legal resources, working as the Managing Editor at the African Legal Information Institute. Her career goal is to reinstate creative and cultural industries as significant contributors to sustainable development in Africa.
QES-AS Research
Ghati Nyehita's research draws upon a case study of three makerspaces in Cape Town, conducted between April and June 2021. It discusses the intersection between the maker movement and Intellectual Property (IP) laws in the context of empowering racialized/marginalized women in South Africa. A notable finding was that gender inequality and marginalization can positively influence development by providing incentives for innovation and creativity. Innovation and creativity often takes place outside conventional structures of research and development, like makerspaces. The makerspaces are not necessarily focused on women's empowerment but provide greater opportunities for inclusion of women into the innovation paradigm. They therefore play a major role in catalyzing creative thinking, innovation capacity, and social entrepreneurial skills amongst racialized/marginalized women in South Africa. IP laws, on the other hand, restrict the extent to which the maker movement in South Africa contributes to empowerment of racialized/marginalized women. This is likely a result of the 'gender blind' provisions which fail to reflect the innovative acumen of women. As a solution, Ghati's research proposes a gender responsive IP system and explores what this would mean for South Africa.