By Rosemond Yaa Kpeiku
The Second Africa Summit on Women and Girls in Technology was a three day event in collaboration between the World Wide Web Foundation, Alliance for Affordable Internet, African Development Bank, Internet Society, Ghanaian Ministry of Communication, Open Society Initiative for West Africa, UN Women, German Federal Ministry for Economic Cooperation and Development, Google, Facebook, and Swedish International Development Cooperation Agency (SIDA).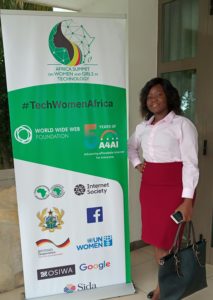 The Summit
The event took place in Accra, Ghana, from October 9thto 11th, 2018. The theme for the Summit was "Unlocking Africa's Digital Future". The event brought together women's rights advocates, policymakers (government and private alike), and all levels of key stakeholders in Africa. This formed a platform and a landscape to discuss issues relating to women's rights and empowerment on and through the internet. It was a great opportunity to be part of the over 250 women and girls who met for the Summit. I was amazed to see and hear women share their knowledge and experiences on issues such as the need to implement policies that ensure universal, affordable internet access and connectivity that is available to all, including women and girls in Africa.
Summit activities included keynote panels and Lightning Talks on the following themes: Leadership in Technology Policy; Women Advancing Science, Technology, Engineering, Arts, Mathematics and Design; Policy Engagement: The What, Why and How; Women and the Web; Institutional Support for Women in Tech. The Summit workshops focused on Community Networks, Enhancing Digital Security and Advocacy, mobilizing for the Impact in the Digital Age, and a Wikipedia Edit-a-thon.
I had the opportunity to sit in on two of these workshops: Community Networks and the Wikipedia Edit-a-thon. The first was run by the Internet Society, focusing on how to bridge the digital gap of accessibility and scalability through community networking. At this panel, we were introduced to concepts and foundational basics that can be applied in women-led projects in Africa, such as in the Zenzeleni project. Meanwhile, the Wikipedia Edit-a-thon was a Wikipedia training, which introduced us to how to create, edit, and use Wikipedia for articles and preparing documentary resources.
Emerging Issues
While there was significant broad debate, some issues emerged at the Summit which were highlighted by many.  These included:
The need to redefine what a woman in technology really is. Women were encouraged to challenge the view that women in technology are only those who design and develop technological products. Instead, we must embrace the idea of women in technology as women who use technological products to solve social and economic challenges.
Access to financing is one of the biggest challenges technology-based enterprises face, especially those that empower and train women and girls. Therefore, policies geared toward financially supporting initiatives such as GirlCode are needed in order to enable more women-led innovation in Ghana as well as other African countries.
Do we need to redesign Tech Solutions to have African women and girls well-being in mind? Should technological products focus on the needs of an African girl child or woman?
Africa women and girls might not appreciate technology if they do not see tech solutions as a tool to enhancing their lives and a means to join the digital world. How do we get them more involved in a truly empowering way?
When women and girls are joining the online world, how to we make sure they are safe. It is well-known that, on a daily basis, women and girls online face technology-assisted harassment and violence. While men face these issues as well, women are far more likely to be targeted. This has made the internet, which is meant to empower women including African women, quite unsafe. Therefore, what is being done by stakeholders to create a safer internet for women and girls especially those in Africa?
Language is a barrier for many African technology developers. Most often coding is being taught predominantly in English and other ex-colonial languages, making it difficult for rural woman and girls to perceive it as a tool of empowerment. When such perspectives are less represented online, what can young women and girls do to close this digital gap and bring the works of more women to light?
Possible Solutions
Several possible solutions were also suggested at the Summit. These included:
There should be an African-centered technology policy that is designed by women and for women. As women and girls in technology, we are the ones that understand our challenges and how it affects us. Therefore, technological products ought to involve women in the decision making process. This would include policies that are simple and easily interpreted. These policies should also ensure that people who use the internet to abuse women and girls are prosecuted accordingly in a woman- and girl-positive manner.
Telecommunications infrastructure should be affordable and accessible by all, especially for women and girls in Africa. This has the potential to empower girls and women economically and socially to ensure sustainable development and innovation on the African continent.
More efforts should be made to teach and bring coding into local dialects. This would include flexible IP laws that can protect information while making it accessible. Such IP policies should encourage that knowledge in technology and ICTs help women and girls to be agents of change themselves.
Education, both formal and informal, should look at simplifying how technology can inspire African women to find innovative solutions for challenges their face
Banks and other financial institutions should partner with tech hubs across Africa that sponsor young African innovators.
Women and girls should be encouraged to write on Wikipedia more women-related content.
More women and girls should undertake research in tech policies and STEM as well as making this research open access online.
Concluding Remarks
At the end of the workshop, we were encouraged to design solutions that matter to women and girls in an African context. We were encouraged to continue our conversations and share our ideas online via #TechWomenAfrica.
I look forward to the third Summit. As a young social innovator, this workshop has helped me in my exploration of the gender dimensions of the Centre for Social Innovations' research as well as how to ensure sustainability in our community projects with the help of the internet. I am grateful to Open AIR and CSI for making it possible for me to attend and to the organizers of this Summit for such an educative workshop.