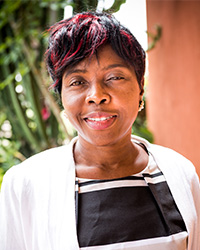 Helen Chuma-Okoro, a Research Fellow at the the Nigerian Institute of Advanced Legal Studies (NIALS) in Lagos, has conducted research on a variety of issues in Nigeria, including: human rights and the rule of law; police prosecution rights; juvenile justice administration; local government; and the rule of law vis-à-vis the immunity clause in Nigeria's Constitution.
Chuma-Okoro has Bachelor's and Master's degrees in Law, and is currently working towards a PhD in Law at the University of Cape Town. She began her work for Open AIR as a Research Fellow in 2011, and has served as the network's West Africa Hub Coordinator since 2012.
QES-AS Research
Women participate significantly in commerce in Africa but face specific challenges that undermine their economic endeavors. It has been argued that eliminating the barriers constraining women in the conduct of their businesses requires not only removing policies that reinforce gender inequalities, but also formulating and enforcing laws and strategies designed to improve women's economic empowerment. Studies have established that collaboration and collectiveness create synergies that help small businesses overcome challenges and achieve growth beyond subsistence levels. Equally, collective organizational structures provide a ready platform for the implementation of collaborative strategies. The philosophy and tradition of collectiveness and collaboration is usually a key feature with a tinge of a matrilineal and matriarchal tendencies guiding knowledge governance and management.
Ms Chuma-Okoro's study examines more closely how collaborative and collective approaches to knowledge management could help women grow their businesses and derive more benefits from their innovation, with particular reference to women producing traditional handicrafts in Nigeria and South Africa. It also examines how such collaborative approaches could help women to grow their enterprises beyond subsistence levels. It examines the nature of the knowledge systems in place and how they could serve as a platform for the implementation of the collaborative and collective approaches to knowledge management/appropriation. Finally, it addresses is how the existing knowledge system can foster recognition of and reward for the creativity and innovation of women. This study aims to establish the potential of solving many gender-related barriers that affect the growth of female owned businesses by relying on collaborative innovation and communal knowledge appropriation systems and how this could also enhance the benefits women derive from their innovation. She argues that the matrilineal mini-governance system characterized by philosophy of openness and collaboration is a ready or potential platform for the operation of collaborative models of knowledge management. These include communal or placed-based intellectual property rights whose value is tied to the distinct qualities of the products involved thereby helping to create value for those in custody of the knowledge.