By Esther Mobolayo Adekunbi
On Tuesday, March 10, 2020, I was privileged to attend a meeting organised by CARE Canada and the Food and Agriculture Organization of the United Nations (FAO) at Canada's Parliament in Ottawa. The meeting was to discuss developing resilience and leadership in women and girls facing situations of crisis. The meeting brought many stakeholders together; humanitarian groups, civil organizations, lawmakers, governments, research institutions, academia and think-tanks. It was a call for action to empower women and girls in developing countries to be better prepared when impacted by the risks associated with climate change.
Climate is Gendered
Climate change has devastating effects and consequences. Research has shown that it was responsible for pushing millions of people into poverty and, at the rate it is going, an additional 100 million people could be pushed into extreme poverty by 2030 (CARE Canada, 2020). Increasing temperatures, rising sea-levels, changing patterns of precipitation, and more frequent severe weather events are expected to have a major effect on the key determinants of human health: clean air and water, food, adequate shelter, etc. The effects of climate on human society, and our ability to mitigate and adapt, are mediated by social factors such as gender. For example, it is well documented that many women and girls in sub-Saharan Africa walk hours every day to fetch water and find firewood (UNICEF, 2016; Deccan Chronicle, 2016).
Furthermore, women face additional risks, due in large part to gender inequities that result in women bearing the disproportional brunt of disaster impacts. Women are often discouraged from learning coping strategies and lifesaving skills, such as how to climb trees or swim. Gendered cultural dress codes may also inhibit their mobility during crises, resulting in higher mortality rates during many disasters for women. In addition, climate-related disasters and conflicts frequently leave women and children vulnerable to violence due to the breakdown of normal social protections. For example, after a natural disaster, women who are in charge of households, and livelihoods to seek temporary shelter in insecure contexts, often making them potential targets of violence.
Although women play a key role in sustainable responses to climate change, several factors make adaptation and resilience more difficult for some women. This is due to a lack of access to formal education, poverty, food insecurity, exclusion from policy and decision-making, and other forms of societal marginalisation. In disaster preparedness, response, and recovery, women's leadership and capacity as agents of change remains an underutilized resource. When women are meaningfully engaged, humanitarian action is more efficient and effective, the transition to recovery accelerated, and community-wide resilience is enhanced (UNEP, 2019). As active agents of change, they should, and must be heard.
Climate Change and Gender Inequality
At the CARE Canada event, a range of speakers, from government representatives to gender experts, spoke about how women and girls can be empowered to build resilience and adapt to changing conditions. According to the speakers, women are harder hit by events triggered by climate change, suffering a higher risk of shortened life expectancy and negative health impacts. Despite the major role women play in agriculture in African countries, they have less access to land and information on cropping patterns and weather alerts. One of the panelists cited a meeting held in one African country following a natural disaster, where only men were in attendance. When asked why the women were not present, they responded that all the women were busy with reconstruction activities, showing pictures of women working on rebuilding walls and roofs.
Two key facts emerged from the event: women are sidelined and frequently not involved in decision making processes; and defining gender roles and setting boundaries for the roles of men and women is the wrong approach.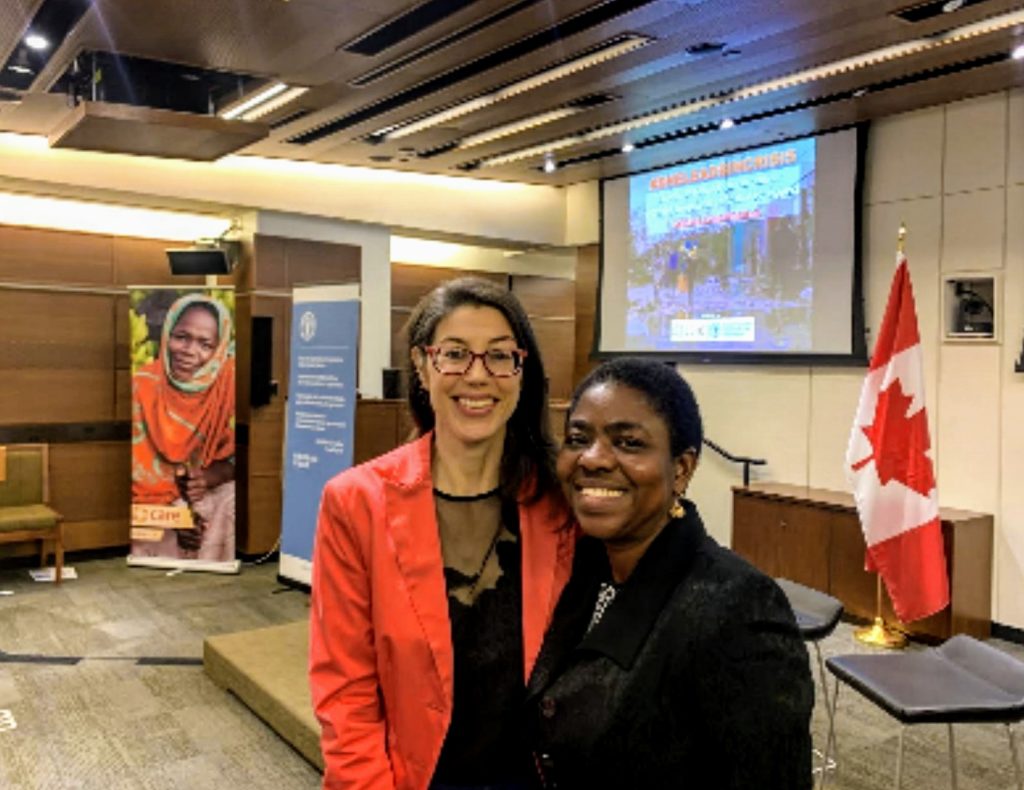 It was further gathered that those who are responsible for securing water, food, and fuel for cooking are confronted with the greatest challenges. As mentioned, the task of providing water for the home is, in most cases, the sole responsibility of women. In the developing world, which Africa is a major part of, water shortages are one of the major challenges facing women. This is especially because, due to climate change, and prolonged droughts, many streams are drying up. These forms of role division can deprive women of important opportunities and make them less vulnerable to climate disasters as well as ill health. Indeed, the dependence of women on natural resources for their sustenance and discriminatory traditional gender roles place them at a disadvantage when dealing with the effects of climate change and conflicts (UN Women, 2018).
The Way Forward
Challenging the social constraints upheld by patriarchal discrimination is key to addressing the unique vulnerability of women in the face of climate change. Patriarchy reinforces structural violence against women by projecting discriminatory gender roles that exclude women from collective resources and reduces their capacity to adjust effectively to climate change-related problems. Redressing this imbalance will require interventions from government agencies, businesses, civil society organizations, and individuals themselves.
Sustainable adaptation must focus on gender and the role of women to be successful. Women have been shown to play a strong role in the management of ecosystem services and food security through their adaptability and resilience (UNFCCC, 2018; UNOCHA, 2015; Rio & Salazar, 2017). Women's voices must be a central part of the response to a rapidly changing climate and they must be involved at every level. There is a need for investment in adaptation and resilience to save lives, address gender inequalities, and strengthen people's capacity to absorb environmental changes. Additionally, responses to climate change must be local, and must be reflected in the way international climate finance and humanitarian funding is delivered. As well, due recognition must be given to women and girls' ability to be leaders in designing policies and implementing solutions.
From an Open AIR Queen Elizabeth Scholar
Gender Equity is one of Open AIR's cross-cutting research areas. As a Queen Elizabeth Scholar, my research focuses on gender and innovation. I am quite grateful to Open AIR for granting me the opportunity to be able to attend such an extensively informative, explosive, and career building meeting. This meeting inspired me for further collaboration toward ending gender inequality and empowering women. I also appreciate the laudable efforts of CARE Canada for organizing this call to action meeting, inspiring my decision to join the organization as a researcher this fall. I see this as another opportunity to contribute my quota to women's upliftment and empowerment.