By Esther Ekong
I am currently conducting my PhD research about Nigerian women entrepreneurs in ongoing global debates about the role of intellectual property (IP) in developing countries. My goals are to, first, find out if women entrepreneurs in Nigeria may enjoy economic benefits through the Nigerian IP system, and second, to find and propose reforms in the current IP system that may create an equal playing field in the IP process by reducing the barriers faced by women entrepreneurs.
As I became immersed in my research, I had a growing apprehension about how my research will contribute to practical improvements in the lives of women entrepreneurs. It became more important than ever for me to know how the gap between the discovery and adoption of knowledge, could be bridged. I became increasingly convinced that that is the real compensation for the hard work demanded by a doctoral research. Thankfully, by being a Queen Elizabeth Scholars – Advanced Scholars (QES-AS) Fellow, I had the unique opportunity to learn how this can be achieved, motivating me to be even more committed to my research. I share with you here my own learning and process during my Fellowship.
Knowledge Translation
Knowledge Translation (KT) means the activities and efforts made to translate research from academic books and journals to the lived experiences of real people. As a doctoral candidate researching the effect of intellectual property rights on women entrepreneurs in developing countries, KT means the translation of my PhD research into impactful solutions for women entrepreneurs in Nigeria. The extensive knowledge derived from the hard work of research will be of little value if it is not put into practice.
My QES-AS Experience
As part of my QES-AS fellowship, I had the privilege of doing a placement at the
Trade Facilitation Office (TFO) Canada, working on their Women Exporters Fund 2021 (WEF) program. Research undertaken by TFO Canada had unearthed a gender gap among exporters. To bridge this gender gap, the WEF was set up to reduce financial constraints on women-led small and medium-sized exporters. While I regret that my internship had to be undertaken remotely because of the COVID-19 pandemic, I am grateful that I was made a part of the TFO-WEF Africa team. The team had the task of organizing the WEF in African countries. They networked with partner institutions in Africa, identifying activities for sponsorship and contacting relevant organizations. I joined the Team's bi-weekly zoom meetings and was given tasks that kept me directly involved with the practical aspect of organizing the WEF. This experience gave me the privilege of seeing how research is translated by TFO into concrete activities targeting the empowerment of women entrepreneurs, creating synergies with local initiatives and financial institutions to support women.
During my placement at TFO, I was also given the opportunity to network with other organizations and learned how they translate research into concrete activities. Two such example are:
Research revealed that "the impacts of COVID-19 are exacerbated for women and girls simply by virtue of their sex". Emerging evidence on the impact of COVID-19 was said to suggest that women's economic and productive lives were affected disproportionately and differently from men. Consequently, UN Women is working hard to mitigate this. One such program is the UN Women's Buy from Women Enterprise This is a data-driven enterprise platform that combines an open-source, end-to-end, cloud-based, mobile enabled, supply chain system to connect women farmers to information, finance, and markets. The information captured through this Platform has the potential to unlock traditional and innovative sources of finance for farmers and cooperatives that can be used to invest in processing and post-harvesting labour and time-saving equipment. Such equipment will enable farmers to avoid distress selling, receive higher prices, and reduce post-harvest losses. The Platform also offers cooperatives a powerful tool to improve their management.
The Alliance for Green Revolution in Africa (AGRA) is led by Africans with roots in farming communities across the continent. AGRA set up the VALUE4HER program, which aims to increase the performance of female-led agribusiness enterprises in Africa. It is part of VALUE4HERConnect an African digital marketplace which was launched in October to counter the effects of COVID-19 isolation policies on women entrepreneurs. The launch emphasized the urgent need to get more women agripreneurs on the continent connected to more networks, markets, financing, and training opportunities to help scale up their businesses. This past March, VALUE4HER Networking & Advocacy– Nigeria, hosted a conference to mark International Women's month, with the topic: "Facilitating dialogue among women agribusiness leaders, government, and development partners." I had the privilege of attending as a representative of the WEF Africa team. Key barriers affecting women's empowerment in agriculture were discussed, such as how to expand the marketplace for women through strong networks and the necessary support they need as women. The key barriers identified by panelists included access to finance, poor knowledge of bookkeeping practices, and insufficient technological skills in order to engage with online platforms.
Women's Entrepreneurship and Knowledge Translation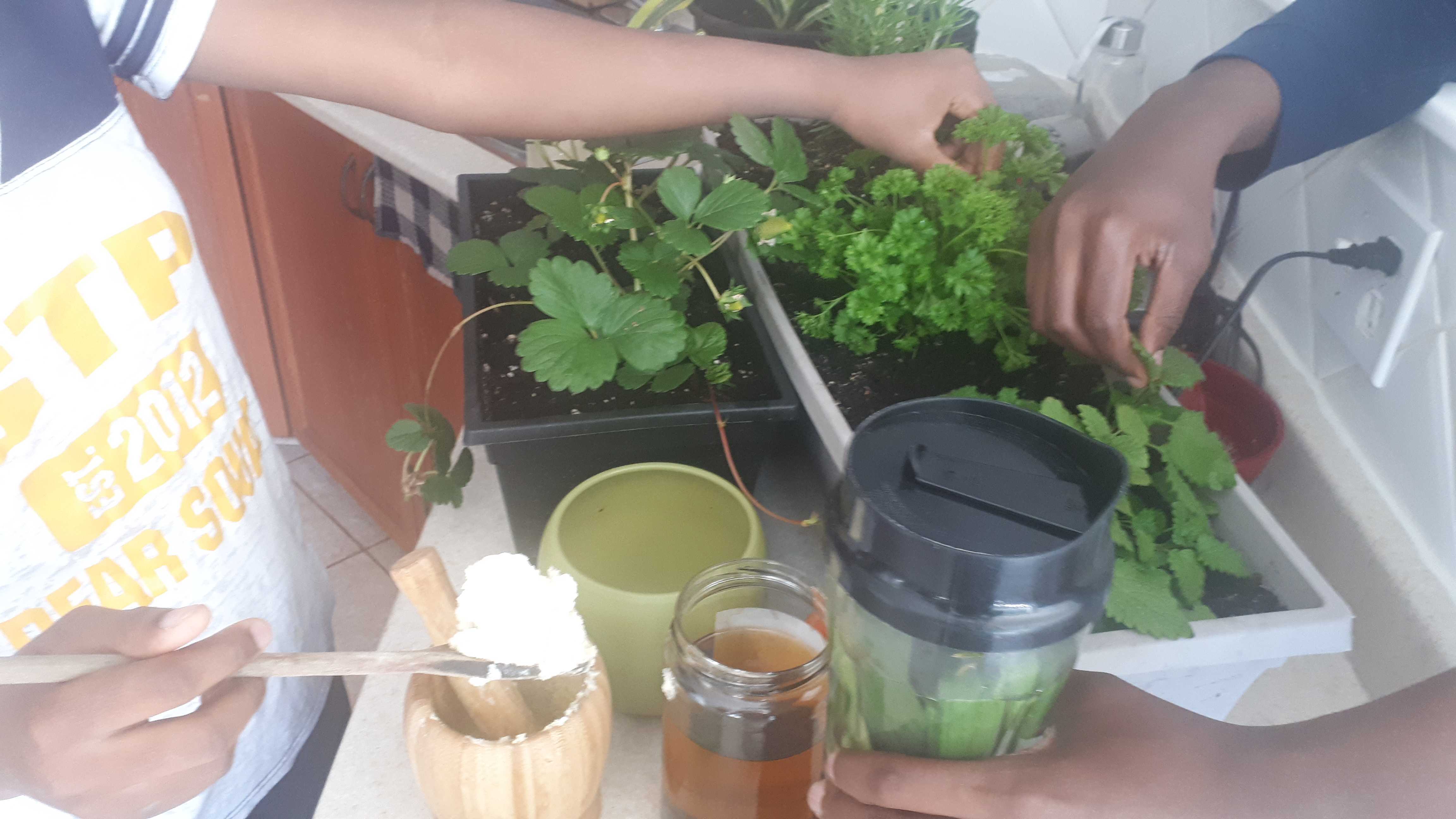 My QES-AS research analyses the systemic barriers to the protection and adoption of women-led innovation within the IP system and draws attention to the perspectives of intersectional marginalized groups, such as poor, racialized women in developing countries. My focus is on the creative innovation of women entrepreneurs producing cosmetics in Nigeria and what benefits they could derive from the IP system. The above discussed initiatives were very relevant information for my research as they have a direct effect on women who produce natural cosmetics. Especially in the case of AGRA, these programs ultimately make it easier for women-led cosmetics businesses to access raw materials (agricultural products) for their innovations.
In addition, I had the opportunity to attend an African Continental Free Trade Area (AfCFTA) Conference, where I learned how the AfCFTA can be positioned to empower women. For example, AfCFTA provisions under the Protocol on Rules of Origin permit access to cheaper raw materials and intermediate inputs. Many women entrepreneurs in the cosmetics sector are innovating at various levels of the cosmetics value chain. They are particularly found at the level of inputs to production, where they apply their traditional knowledge to extract raw materials for cosmetic production. This AfCFTA permission will enable them to produce goods and services with significant African content, both in terms of raw materials and value addition, in line with the preferential trade regime of the AfCFTA.
As I continue with my PhD program, I now have a practical, real-life perspective on how my PhD research can be translated into impactful solutions for women entrepreneurs in Nigeria. I am buoyed by the knowledge that there are ongoing and upcoming concrete initiatives through which research, such as that carried out by Open AIR researchers like me, will be translated, and impact the lives of those they target. One great takeaway from my QES-AS fellowship, is the realization that whether in trickles or spouts, knowledge generated from research like mine will be translated to women entrepreneurs, leading to the empowerment of women. It may not always happen as quickly or efficiently as I would want to see it happen, but I am reassured that it will happen.